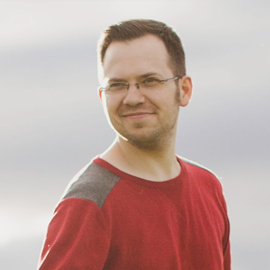 Name: Bryce Wilson
Location: Edinburgh
Nationality: British
Email: bryce@oovu.co.uk
Introduction
My name is Bryce Wilson & I am a web guy. Currently I am utilising over a decade of experience in my field to lead the way in Front-End Development at SopraSteria.
My knowledge covers multitude of skills required to create & maintain critical software and products.
I have established experience in a variety of Javascript & PHP Frameworks such as Node, AngularJS, Gulp, Yii, Yii2, Fuel & CodeIgniter - enabling me to hit the ground running when tasked with any project.
I work fast and efficiently, with my team of Developers or flying solo championing home the goal.
I am a husband to a beautiful wife & a father of 2 little geniuses who are chomping at my heels to take up the mantle!
Professional Background
My Experience
2015 July - Present
SopraSteria
Senior UI Developer
The Role
Information coming soon...
2015 February - 2015 July
Jivaro Ehf.
Software Engineer
The Role
To have the chance to work briefly for a company such as Jivaro was an absolute pleasure. Working at the forefront of ground-breaking technologies to deliver a top class product using agile methodologies, these guys had everything a hungry software engineer could wish for in a role. In this role I was tasked with replicating an existing system built in express.js and backbone.js into a RESTful AngularJS application to work against a newly developed API with successful results.
2012 August - 2015 February
180Vita Ltd.
2012 - 2014 Senior Digital Designer
2014 - 2015 Head of Design
The Role
Senior Digital Designer
When I joined 180Vita it was originally at the capacity of Senior Digital Designer. My day to day duties consisted of holding design meetings, creating mock-ups and working to the ideal of a user centred design. I also work closely in agile development with backend programmers, taking part in weekly sprint meetings to deliver results and meet expectations.
Head of Design
In this role I fulfilled my duties as Senior Digital Designer but also oversee all areas of design and front end development to ensure quality control and deliver expected results on schedule. This involves weekly sprint meetings with both the design department and again with the development team.
2010 July - 2012 August
Zendit Ltd
Senior Digital Designer
The Role
During my time at Zendit I found myself filling many roles as can be found in young start-up companies. I carried the requirement for design in every capacity from print to web and on top of that met the requirements of developing concepts and prototypes for external clients aswell as Zendits own products. This involved liaising with clients from around the world, this required travel to other countries to fulfill necessary user centred design processes.
2009 September - 2010 July
Adeo Group
Senior Web Designer
The Role
Adeo Group are a fantastic Ecommerce company of which I had the pleasure of developing UI and UX for. Whilst working at Adeo, I found a deeper interest in UX Design as being primarily an Ecommerce company, user beahaviour has the ability to make or break a companies profits. Adeo also specialise in SEO, again a crucial part of any respectable online store. Day to day duties involved client meetings, design processes and implementing feedback from user testing.
2006 July - 2009 September
Swan Web Solutions
Web Designer
The Role
My first serious web gig came in the form of Swan Web Solutions. This is where I learned to bridge the gap between design and development in both frontend and backend. Learning the ropes of working with clients to fulfill their briefs. As this was a very small company which consisted of 2 people, I found myself with huge amounts of responsibility a great deal of the time. This helped me become a quick but thorough developer and my eye for detail as a designer sharpened with every new client.
2004 - 2005
Fife College
Advanced Diploma in Interactive Design
Course Description
This course was run by Mike Inglis, a passionate and committed artist and designer. The course involved studying design in a variety of interactive mediums from web to animation and how to apply these in both personal and commercial instances.
2002 - 2004
Fife College
HND Visaul & Graphic Design
Course Description
This was a 2 year course on studying art and design to be presented in a commercial environment. Subjects in the course ranged from studying typography and colour palettes to learning advanced software packages such as the Adobe Suite and publishing software.
What I'm best at
Skills & Knowledge
Knowledge & Technologies
CSS3
HTML5
jQuery
AngularJS
JavaScript
SASS
LESS
Node
Gulp
Bower
Jade
Adobe Creative Suite
PHP / MVC Frameworks
MAMP / WAMP
UI Design
Web Design
Graphic Design
App Design
UX Design
GIT/Subversion
MySQL (basic)
MongoDB (basic)
PokerVIP

PokerVIP Arcade

Tipday

Tipday App

PokerCube

No longer available

Jackavo

No longer available

Beerdog

No longer available

Beerdog

No longer available

Beerdog

No longer available

SpaceScape

Award Winning HTML5 Game

Wedding Seating Plan

Poster Design

Green's Decorating

Company Branding
Get in touch
If you like what you hear and like what you see, feel free to drop me an email or Connect on Linkedin.
My Details
Send a message